Ice chalet 50th anniversary
50th Anniversary Kick-Off Celebration & Reunion
Friday, July 20
6:00-8:00 p.m. Informal Gatherings
Cocktail Party (Sequoyah Grille) .. or...
Skating Party at the Ice Chalet
Saturday, July 21 -- The Big Celebration!!!
4:00-8:30 p.m. On-ice Dance (Off-ice Optional) with DJ
Followed by Dinner in Tent Outside
Sunday Dress to Ballroom Attire optional
Share Your Photos!
We have started posting photos to Shutterfly -- but we need more! We're adding photos every day... Check out your decade/s -- are you in these photos?

https://icechalet50.shutterfly.com/

If you would like to have your photos added, just send them to us and tell us the approximate year the photo was taken.
What Music Did You Skate To?
Tijuana Brass? The Girl From Ipanema? What songs come to your mind when you reminisce about skating at the Ice Chalet? We will play these pieces during the reunion for old time's sake. E-mail us!
Commemorative Items!
We have an arrangement with Cafe Press to offer a wide variety of items bearing the 50th Anniversary logos, including "Chalet" the Bear and his 50th logo mug, shown to the right.

https://www.cafepress.com/icechalet50

Embroidered polo shirts are available for pre-order. Kate Webb, Steve Bannach, Larry LaBorde, and Snigdha Dhar are modeling the shirts for us in the photo below (Steve's motorcycle is a great prop!)
https://www.chaleticerinks.com/50thpolos.htm
Official Hotels of the 50th Anniversary Celebration:
Special $ 99.00 per night rates are available for 50th Anniversary attendees:
Hilton Garden Inn (Cedar Bluff Area)
865-690-6511 (Group Code ICL)
216 Peregrine Way
Knoxville TN 37922
https://knoxvillewestcedarbluff.stayhgi.com
Includes hot bar breakfast
Hilton Knoxville (Downtown)
865-251-2578 or 800-445-8667 (Group Code IC50)
501 West Church Ave
Knoxville TN 37902
https://knoxville.hilton.com
Cut-off date: July 1st.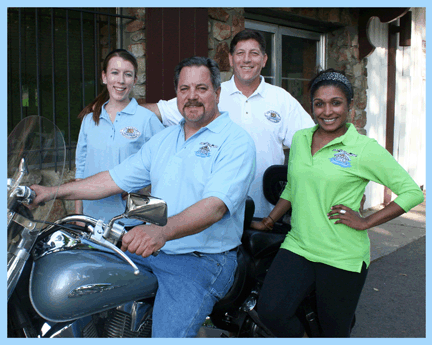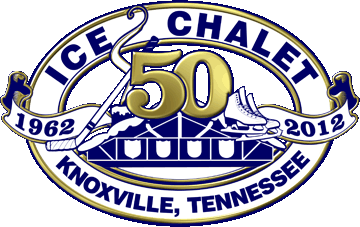 Banner Advertising Opportunity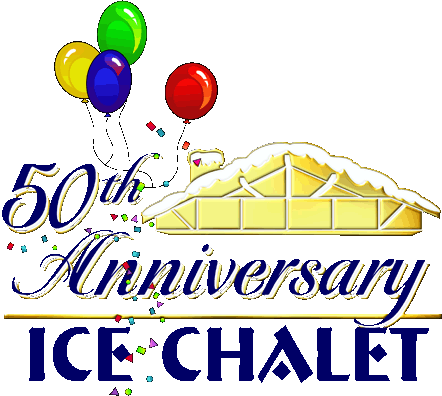 LOGO WINNERS!!

The vote is in, and we'll use both of the designs below: