News

Robert Unger Team Wins Miami University Competition!
Oxford, Ohio, February 14-16, 2003

A team of skaters from the Robert Unger School of Ice Skating in Knoxville won first place in Miami University's Open Competition held February 14-16, 2003 at Goggin Ice Arena in Oxford, Ohio. They defeated fourteen (14) other teams from several states, including the home team. States represented included Kentucky, Indiana, Illinois, Michigan, North Carolina, Ohio, and Tennessee.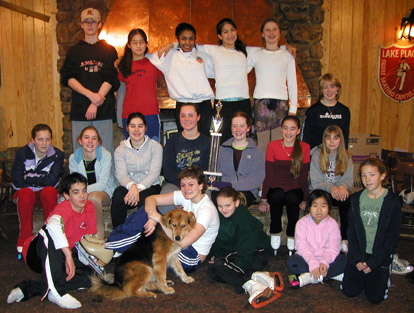 Representatives of the winning team pose for posterity!

The team, composed of twenty-seven (27) skaters who train at the Ice Chalet in Knoxville, ranged in age from seven (7) to eighteen (18). The Robert Unger Synchronized Skating Team also placed first. The Miami Open is a team event, where each placement is assigned a point value, and the team with the highest placements in the most events wins.

They competed in several different categories, including Solo Freestyle events (based on skating level), Ice Dancing, Footwork, Stroking, Couples, Spotlight, Artistic, Jump & Spin, and Synchronized. This event is endorsed by the international Ice Skating Institute.

The skaters were all from Knoxville, Chattanooga, Clinton, and Oak Ridge. They are listed in alphabetical order below:
Serena Allen
Wills Baker
Ariella Barhen
Sarit Barhen
Hannah Daniel-Beck
Kristin McCain
Paige Berry
Laurel Brunell
Susie Clark
Snigdha Dhar
Tori Gibbs
Leah Grossart
Cherilynn Harris
Lisa LaViers
Kaleigh Lain
Ryan Lain
Breana Leader
Brendan Leader
Jessica Marshall
Kara McCurry
Arianna McElyea
Drew McElyea
Christa Moser
Katie Owens
Kate Webb
Carlina Yu
Gloria Yu
Congratulations, team!

Featured Events:
Ice Chalet Hosts Special Olympics

34th Annual Mississippi Valley District Figure Skating Competition
March 28-30, 2003

Skating Events
2003 U.S. Nationals
2003 European Championships
2003 World Figure Skating Championships



Figure Skating TV/Cable Schedule
All Listings Eastern Standard Time
(Doublecheck listings in case of last-minute or local affiliate changes)
March 23
12:30-3:30 p.m.
Repeat of European Championships
ESPN
March 27
7:00-9:00 p.m.
Worlds
ESPN2
March 27
9:00-11:00 p.m.
Worlds
ABC
March 29
5:30 or 6:00 -8:00 p.m.
Worlds
ESPN
March 29
8:00-11:00 p.m.
Worlds
ABC
April 5
4:00-6:00 p.m.
Worlds
(Exhibitions)
ABC
April 5
8:00-10:00 p.m. or 9:00-11:00 p.m.
Worlds (Repeat)
ESPN
April 6
?
Junior Worlds
Lifetime
April 7
9:00-11:00 p.m.
Worlds
ESPN
April 11
?
U.S. Synchronized Championships
Lifetime
April 13
3:00-5:00 p.m.
Worlds
ESPN2
April 18
?
Worlds Synchronized Championships
Lifetime
May 11
1:00-3:00 p.m.
USFSA Spring Open
ABC
Make plans to attend the Lake Placid ISI Skating Competition next January!
Jan. 9-12, 2004
Lake Placid Information