Robert Unger Team Wins 2004 Point Mallard "Wind, Rain or Shine" ISI Competition

A team of 23 skaters representing the Ice Chalet of Knoxville won the 2004 Point Mallard Skating Competition July 9-11, 2004 in Decatur, Alabama.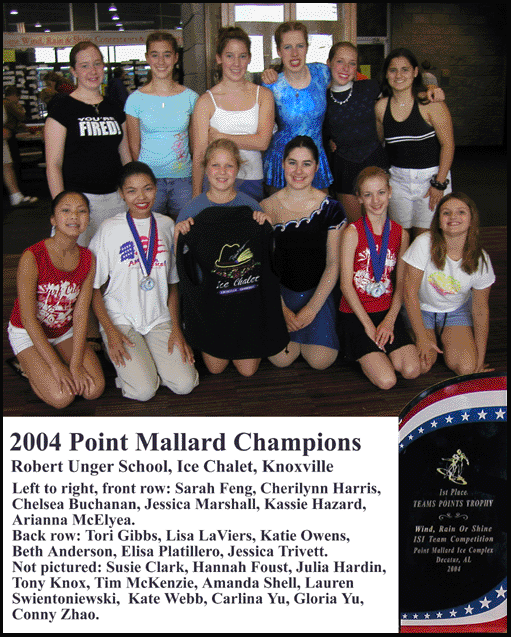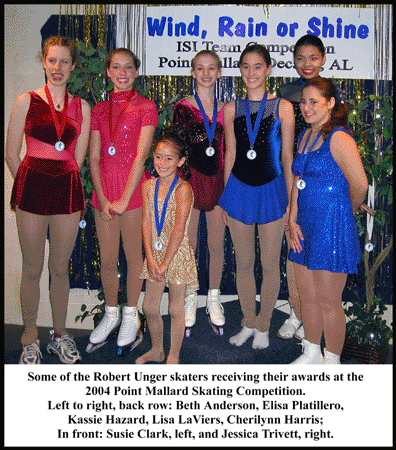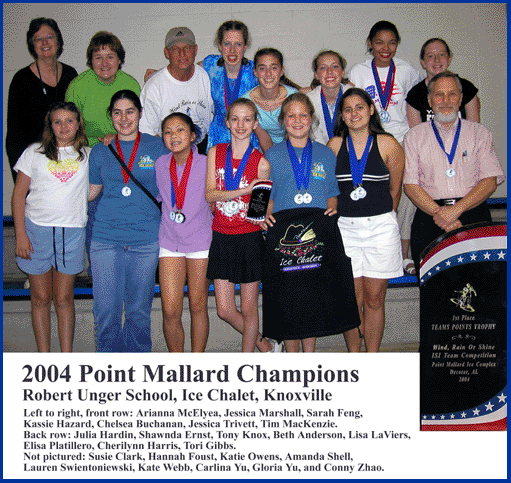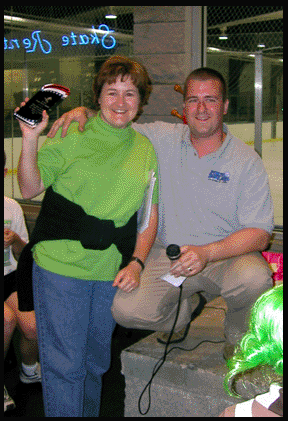 The team won a total of 52 gold medals, 31 silver medals, eight bronze medals, and three fourth place ribbons. Skaters participated in a variety of individual and team events, from freestyle skating that includes all the familiar jumps and spins for each level of achievement, to artistic, interpretive, spotlight, footwork, compulsories, and ice dancing. The Robert Unger students won 71% of the events they entered. They are from Knoxville as well as Clinton, Kingsport, Louisville, Maryville, Madisonville, Sevierville, Strawberry Plains, and Sweetwater. The team was accompanied by coaches Shawnda Ernst and Julia Hardin.

The skaters are:

Beth Anderson, 18, Knoxville
Chelsea Buchanan, 11, Knoxville
Susie Clark, 8, Knoxville
Sarah Feng, 11, Knoxville
Hannah Foust, 14, Madisonville
Tori Gibbs, 13, Knoxville
Julia Hardin, adult, Knoxville
Cherilynn Harris, 14, Knoxville
Kassie Hazard, 12, Sevierville
Tony Knox, adult, Sweetwater
Lisa LaViers, 15, Strawberry Plains
Tim MacKenzie, adult, Louisville
Jessica Marshall, 18, Clinton
Arianna McElyea, 10, Knoxville
Katie Owens, 16, Knoxville
Elisa Platillero, 14, Knoxville
Amanda Shell, 15, Knoxville
Lauren Swientoniewski, 12, Knoxville
Jessica Trivett, 15, Kingsport
Kate Webb, 18, Maryville
Carlina Yu, 15, Knoxville
Gloria Yu, 9, Knoxville
Conny Zhao, 10, Knoxville


Congratulations, team!