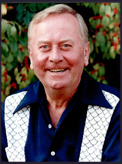 Remembering Robert Unger
1925-2007
Send your remembrances to icechalet@bellsouth.net
We will post them as soon as possible. -- Thank you!
For all that knew this great man he will be truly missed. If you didn't have the pleasure of knowing him, I'm sorry and hope someone will touch your life as he has done for so many. I WILL MISS HIM! Prayers and Hugs
-- Tappie
Mr. Unger shared his love of ice skating, his sense of humor, and his dedication to the art of teaching with several generations of skaters. He meant so much to so many!
-- Julia
Robert Unger was an extraordinary skater, coach and human being. His smile and sense of fun were as ever ready as was his seriousness in teaching us to skate properly. Though I grew up in Southwest Georgia and Mobile, AL, hundreds of miles from a sheet of ice, I had dreamed all my young life of being a skater since seeing the Vienna Ice Revue on television at the age of five. It was on International Showtime with Don Ameche and, according to my father, I pointed to the TV and told him that's what I would be when I grew up. After high school graduation in 1968, my Dad talked my Mom into letting me go to Huntsville for the summer skating session at the old Ice Palace. "It'll be too hard and she'll forget it and come home and go to college like everyone else. It'll just be for the summer. ", were Daddy's words to my Mom. Two months later Rob called and asked them to come up to Huntsville and told them he felt I could make it into a show if I had a couple of years to train. Fortunately I had prior dance training, and my folks knew they couldn't talk me out of it at that point. With the help of this remarkable man and skating 8 to 10 hour days, I did make it into "Holiday on Ice." When, in Knoxville, the training seemed too overwhelming, he made me laugh. When I worked to the point of exhaustion, he literally took away my skates, locked them in his car trunk and made me leave the rink for a couple of days. And for everyone of his students, he was our biggest cheerleader and fan. It didn't matter if you were a beginning skater or advanced, he made us all feel so positive about our efforts. Not long after I began training, I was skating a perfectly awful figure eight, the tracings a foot or two apart, and all of a sudden Rob said, with such excitement in his voice, " Oh, Ellen, you are making circles! You are finally making real circles!" No matter that the circles were wobbly and the tracings were a foot or two apart, or that a jump barely left the ice or a spin traveled six feet, he gave us the feeling that we COULD. And so, as time went on, we indeed DID! And that was his magic. Somehow, I can't write "Rest in Peace" because I think he has already found a clean sheet of ice in Heaven and is fitting the angels with skates as I write this! St. Peter will be doing axels quite soon, I imagine. Skate on, Rob. And save us all a place on the ice! Would love to hear from anyone I skated with at the Ice Palace or the Ice Chalet. Though I lost touch with you all (my fault) and truly regret that so much, many of you were very special to me and I have not forgotten those days. It would be wonderful to know where you are and what you have been doing all these years .
-- Ellen McClellan
Dear Mr. Unger,
In your birthday card last July, I wrote: "I hope you realize how important you have been to so many people, and how much you are loved". I don't know how the world will get along without you in it. We will miss your smile, your twinkling blue eyes, your joyous red face, your accent, in fact everything about you we will miss. Your influence on so many people will continue to inspire us all. You gave the best of yourself, and you expected and even demanded the best from everyone. We tried to give you our best because we never wanted to disappoint you.
The last time Allen and I visited you in your office at the Ice Chalet, I received lots of hugs, so many in fact that Allen told Larry the two of them should leave us alone! We were all laughing too much, having too much fun for that to happen--but your face turned beet red (your trademark)! All the many people who received your hugs received a special gift! You had a way of making everyone feel important.
You are the reason ice skating in Huntsville, Alabama has developed and grown to what it is today, your skating standards and your ethical standards permeate the program. We thank you for all you have given us and all you demanded from us. I have a theory that as long as someone is remembered, as long as that person's teaching is passed on to others, then that person still lives. So, dear friend, you will live in all of us now and for many generations to come. We thank you for being such a big part of our lives, and for letting us be a part of yours.
-- With many hugs, Julie Gary (Huntsville, Al)
You will always have a special place in my heart. You are a huge part of the person I am today. You helped me develop the values that I live by to this very day. I will miss your hugs when I come to visit!
-- With much Love, Kelly Rae Brown-Whited
I also was a student of Mr. Unger's in Huntsville at the Ice Palace in the 60s and early 70's. I have to say being of German descent we had our moments!! We did bump heads a couple of times!! However, he was an inspiration and a great teacher and made learning fun. I always looked forward to going to classes knowing that his great teaching style and kindness would always prevail. He will be missed I am sure, although I havent seen him in years I can still hear his voice. It was a joy and honor to have been a part of his legacy.
-- Pati Giddens (Scheuch)