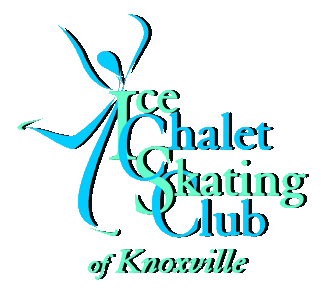 MISSION
The mission of the Ice Chalet Skating Club of Knoxville is to support and develop amateur skating by providing educational programs and opportunities that will help skaters achieve their goals in a safe and healthy environment in accordance with the policies of the Ice Sports Industry. The Club will promote good sportsmanship, teamwork, self-discipline, self-esteem, confidence, fun, and physical fitness. The Club will encourage full participation in the sport of skating by all persons regardless of disability, race, religion, creed, ethnic origin, age, or gender.
Objectives:
...Provide fun, community-building activities for club members.
...Provide annual sportsmanship awards to deserving skaters.
...Cooperate with the Ice Chalet management regarding rules and policies designed to promote a safe and healthy environment for skaters.
...Raise funds to help sponsor club sessions, shows, exhibitions, competitions, and special events.
...Raise funds to help cover expenses for out-of-town competitions.
...Promote the public's appreciation for and knowledge of the sport of ice skating.

Membership Brochure (PDF format)
Membership Costs and Requirements:
SINGLE MEMBERSHIP:
$ 55.00 with no volunteer hours
$ 30.00 with minimum of 10 volunteer hours
FAMILY MEMBERSHIP:
Enables all members of your family to
receive membership benefits.
$ 75.00 with no volunteer hours
$ 35.00 with minimum of 10 volunteer hours
"Volunteer hours" can include your time,
providing food, setting up, making posters, etc.
Examples:
- Volunteer for "Major Events" such as the Nutcracker On Ice and the Robert Unger Competition
- Participate in Café Chalet rotations

Ice Chalet Skating Club of Knoxville
100 Lebanon Street
Knoxville TN 37919



Officers:

Jason Rieger, President
Lori Santoro, Vice President
Julia Hardin, Treasurer
Candace Jarrett, Secretary




Membership Benefits:

Participation in special club activities.
The "inside scoop" on getting the most from your Ice Chalet involvement.
$ 10.00 off first Test Session each year;
$ 5.00 off all others for one year.
Note: Basic level test sessions are free.
$ 2.00 Discount on Public Session Admission

Financial Assistance towards expenses for one Out-of-Town Competition each year*
(Club chooses the competition);
Non-members receive a reduced amount*

Discounts on many Ice Chalet and
Club Events
Free entries in all team events for
all Competitions chosen by the Club*

20% off all Pro Shop items bearing
the Ice Chalet logo
20% Off Blade Sharpening Pass!
*These benefits are contingent upon available funds.