Skating Skill Levels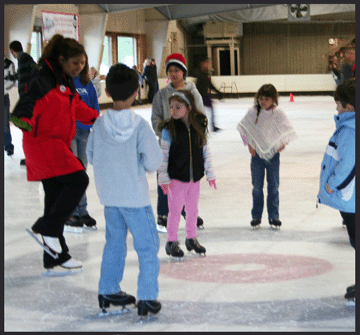 Skating Skill Levels
These are the skill levels established by the Ice Skating Institute's "Learn to Skate" program .ISI has transitioned to the name "Ice Sports Industry."
We are proud members of the Ice Sports Industry (ISI), founder of the first learn-to-skate curriculum in the United States. Since its inception in 1959, ISI has introduced over 10 million skaters to the wonderful world of ice skating through its programs. The ISI Ice Skating Program is all-inclusive - encouraging individuals of all ages and skill levels to skate "for the fun of it!"
ISI believes in "participation, not elimination," offering events and competitions for those desiring to compete in a friendly and fun atmosphere.
The ISI is a full-service membership trade organization servicing rink owners, operators, coaches and skaters!
Basic Levels:
Beginning and Advanced Tots
These classes are for ages 3-5. Students work on falling, marching, gliding, and moving forward and backward. Each child must wear gloves and a toboggan or helmet for protection.
Beginners (Pre-Alpha)
Beginner students learn to balance and do simple glides on both feet. Anyone over 5 who has never taken classes should start here.
Alpha
Once you have passed Pre-Alpha, you move to Alpha and learn forward stroking, forward crossovers in both directions, and a simple stop.
Beta
Students who pass all the Alpha skills now work on backward stroking and backward crossovers in both directions, plus a T-stop with each foot.
Gamma
After Beta, students begin to work on two different kinds of turns (forward outside edge 3-turns and inside mohawks), as well as a hockey stop.
Delta
This is the last basic level. Students work on inside edge 3-turns, forward edges, bunny hops, lunges, and shoot-the-ducks.
Freestyle Levels:
This is where you go once you have mastered all the basic levels. There are 10 levels which all include different jumping, spinning, and footwork maneuvers.
Please see the ISI Web Site for Skill Requirements for all other levels.

Ice Dancing
Skaters who have passed Alpha can learn different patterns of footwork on the ice to ballroom dance music. There are over 20 ice dances that are currently in the Ice Skating Institute's 10 ice dancing tests.

Synchronized Teams
Skaters who have passed Beta are eligible to take part in our synchronized teams. Teams of 8 or more skaters perform a 3-4 minute routine with different footwork -- the trick is everyone is doing the same thing at the same time!

Hockey, Pairs, Couples, Figures
There are also progessive skill levels for Hockey, Pairs, Couples, and Figures.
Join the Ice Skating Institute!
Benefits include:
$5,000 excess accident insurance policy. (claims must be filed within 90 days of accident)
Personalized membership card.
Recreational Ice Skating - quarterly magazine featuring recreational ice skaters, programs, events and tips.
Test registration and patches.
Opportunities to perform locally and nationally.
Access to skating manuals and brochures.
Evan Lysacek
Mirai Nagasu
Michelle Kwan
Sarah Hughes
Emily Hughes
Timothy Goebel
John Zimmerman
Sasha Cohen, and more....

... they all started skating in the Learn-to-Skate program designed by the Ice Skating Institute (now Ice Sports Industry)! These skaters have become part of an elite group of the most talented figure skaters in the world who train for many years to represent their country on Olympic or World skating teams.

Aaron Blake
Adam Blake
Austin Blake
Jennifer Roberts Bradley
Taylor Green
Kassandra Hazard
Ella Hulsey
Larry LaBorde
Galen Labotka
Michelle Sheppard
Mary Lu Shipstad
David Tankersley
Benjamin Toedte
Robert Unger
Sarah Wright
Jose Zulueta...

...These skaters all trained or taught at our rink -- the Ice Chalet -- and became professional show skaters for Disney On Ice, Rosstyn Ice Shows, or Holiday On Ice.



Did you know...
The vast majority of skaters simply enjoy skating as a recreational activity. Millions of people take lessons and visit skating rinks just for the fun of it! Figure skating is an elegant and demanding sport that helps you develop balance, coordination, and artistic abilities while becoming more physically fit, and you can do it for most of your life!